Unlike your deck, recent gravekeeper's decks are all copies of each other and they all work. Why? Because they have the tools to do it (tons of traps + easy summon monsters that work well together).

However, I'll keep your non-meta scheme going (though i think the meta one runs better) and give fixes:

-2 magical dimension (i know, visionary; but imo it's a pricy card to have)
-1 Pot of A (necrovalley = dead card)
-1 summoner monk (what's he doing there XD?)
-2 Divine wrath
-1 guard or spy (recruiter's got it covered)
-1 rite of spirit (space issue, good card otherwise)

+1 Magician's circle (this card is just visionary's best friend)
+1 commandant (necrovalley has to be in your hand)
+2 solemn warning (you can't play without it)
+3 pot of D (this card is just tooooo good. I'm starting to find ways to main it in all my decks; prediction: limited in next format)
+1 royal oppression (must have this)

Also, i don't know how you can fit them, but glow up bulb works really well in GK decks (think, face down spy + bulb in grave = trishula). Also, Gale + GK's = Arcanite and/or blackwing synchro's.
Some noobs or pro wanna be's will tell you that DAD is bad; however, DAD in GK decks is a guaranteed 2800 beater to summon (thanks to steele) when you draw him. Even if his effect is cancelled, he's still a 2800 beater.

Again, i don't believe this is the best way to run GK's now that recruiter is available on kcvds, but i modified while keeping your theme going.

_________________
Shade Keeper:
coolchemist2001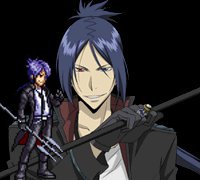 Shade Weapon:
Jump Sword lvl 3
Weapon Description:
Grants the user the ability to perform an extra normal summon or set without tribute once per turn. This weapon can be achieved by defeating this shade keeper three times in a row